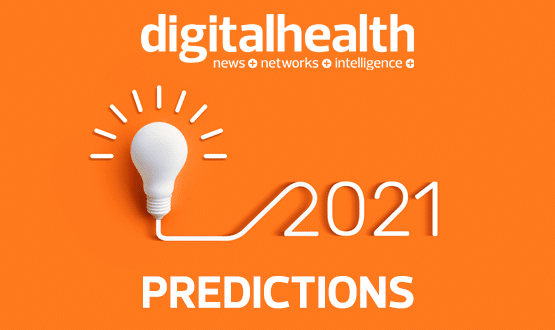 After a busy 2012, we asked some health tech suppliers to give their predictions for the year ahead. Here is what they had to say.
Ian Denley, joint chief exec of System C and chairman of Graphnet
"Large scale population health systems have been deployed at breakneck speed this year and have been transformational in providing the real-time data needed to manage Covid. This will continue into 2021. NHSE/X's vision of shared records and population health across all ICSs is likely to be achieved.
"We have all learnt in the last 9 months that the NHS can embrace digital solutions very quickly when it's an operational imperative to do so. We're looking forward to the Digital Aspirant programme providing stimulus and focus in terms of accelerating digital maturity – and also to a more mature focus on values and outcomes, rather than just functionality, when measuring digital maturity.
"Finally, the integration of health and social care and the apparent lack of priority given to social care policy is still unresolved. In 2020, we've all seen what this means in human terms. As we continue to deal with coronavirus and its impact, 2021 must surely be the year to put social care policy centre stage."
David Hancock, healthcare executive adviser, InterSystems
"Software usability has been really important to clinicians and administrators – and poor usability has been a major contributor to burnout, however Covid has shown the issues of poor usability for patients.
"Despite the national adoption of solutions like Attend Anywhere and others, the experience is that both doctors and patients revert back to telephone because it is easier and guaranteed to work. Too often, it is just too difficult for patients to use this software and large numbers of video consultations have been abandoned because it is too hard to get it to work.
"Learning from this, there will be far greater focus on usability and convenience to make the usage of this technology far easier and more predictable; one click access will dramatically lower barriers to adoption. I hope this becomes a central focus in health and care as it becomes more 'consumer-oriented' in its use of technology and that this is targeted at both patients and staff in health and care."
Diana Nole, executive vice president and general manager of the Health Division at Nuance Communications
"This year, the urgent need for information to drive diagnosis, treatment, and other clinical protocols related to Covid-19 resulted in an unprecedented global sharing of medical knowledge. In 2021, we can expect that trend to broaden across clinical areas, to capture the benefits of improved access to clinical intelligence.
"IT vendors will expand the availability of AI-powered analytics tools that make it possible to tap into the potential clinical value of the vast volumes of healthcare data that is being generated daily. We also will see increased adoption of solutions that deliver workflow-integrated, real-time AI for clinical decision support at the point of care. This will be a significant element in providing better care and financial outcomes as well as improving the patient experience and reducing physician burnout from administrative workloads."
Richard Strong, vice president and managing director (EMEA) at Allscripts and member of the techUK health and care council
"2020 was a year of two halves, and I expect 2021 to be the same. As Covid-19 arrived in the spring, we saw some IT projects put on hold, but then deployments picked up as organisations rolled out remote working and virtual consultations, while reconfiguring their electronic records to triage and treat patients.
"What was great about that period was that people gave up their vested interests to work together for the greater good. However, there is now bound to be some drawing breath and some consolidation. The NHS will need to navigate the winter and then reset once there is an effective vaccination programme.
"At the same time, IT teams will need to assess the impact of new solutions and work out how to embed them into 'usual' business practices. There will need to be integration with the EPR because, at the moment, some of those virtual consultations are not showing up in the historical record.
"In the second half of the year, I expect to see more innovation, driven by the arrival of integrated care systems (ICSs). They will need to redefine patient pathways, and some elements of those pathways will be virtual. That will require open systems and open standards so all the different elements can work together and generate data for predictive analytics.
"That's when our Covid-19 relationships will be beneficial. This year, we picked up the phone and spoke to people we might never have spoken to before because our clients wanted us to work together, and next year I hope that spirit will be retained.
Gary Birks, managing director, UK and Ireland, Orion Health
"2020 has been a very different year for all of us and we are going to continue to feel its effects in 2021.
"We had requests for thousands of new licenses as shared care records proved their value in supporting reactive care. Our long-established customers moved to proactive and predictive care as they became the primary record for new services and embedded Covid-19 risk calculators into their portals.
"The value of these developments was recognised by NHS England and NHS Improvement at the end of the first wave. Guidance was issued asking the NHS to complete the roll-out of integrated care systems and to get basic shared care records in place by next September. We can safely predict that we will be doing some exciting work in this area next year.
"In addition, I would like to see technology improve patient access to services. I believe this will drastically improve the way we deliver consultations in the future. The demographic who were unlikely to use technology to shop and keep in touch with family and friends before the pandemic are now using it proficiently. Covid-19 has accelerated change and set the scene for technology to drive patient care."
David Price, director of UKCloud Health
"As 2020 disappears into the distance, we can all breathe a huge sigh of relief that through the gradual roll-out of the various vaccines that have been developed, life in Britain might get back to something resembling normality in a post Covid-19, post Brexit (Deal or No Deal) world.
"Healthcare workers throughout the country will be delighted to getting back to those patients that have had all sorts of operations and procedures cancelled during the pandemic. The re-focus of resources allowed NHS teams to focus on the care of those unfortunate enough to have succumbed to the virus.
"One thing that the pandemic will leave, hopefully as an important reminder of its significance, is the extremely important role that data could play.
"Coronavirus has taught us that we can gather, manipulate and crunch gathered information to deliver astonishing results. It is widely known that a vaccine usually takes between six to ten years to develop and test but in this case, by using research data, this timescale has been shortened to less than a year.
"For over 20 years, I have worked with multiple teams across the NHS to try and raise the fact that stored data can help drive patient care pathways.
"The Digital Hospital is slowly becoming a reality. The capture, use and storage of patient centric information will aid the drive towards a digital future where patients will be able to self-serve from an ever growing list of digitally available solutions and services which will remove some of the burden on front line healthcare workers."
All of our contributors and other leading health technology figures, will be at the wholly virtual Digital Health Rewired on March 15-19.
Make sure you have booked your place today.