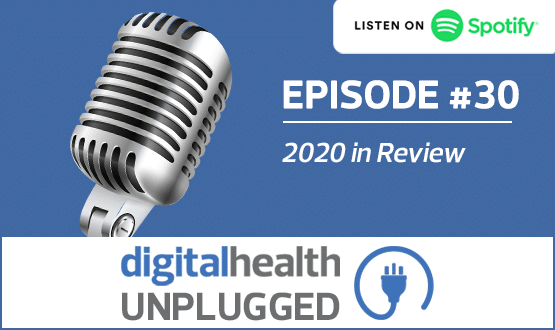 The latest Digital Health Unplugged is now live – taking a look back on 2020 and the lessons learned for digital health in the NHS.
In the penultimate episode of the year our expert panel also look at the key achievements made in the sector, the impact of Covid-19 and the way industry and NHS leaders worked together to tackle the pandemic.
Joining host Andrea Downey are:
Phillipa Winter, CIO at Bolton NHS Foundation Trust and a member of the Digital Health CIO Network
Matthew Stickland, Director Strategy and Communications at TPP
Joe McDonald, CCIO at Cumbira, Northumberland, Tyne and Wear NHS Trust and member of the Digital Health CCIO Network
Jon Hoeksma, editor-in-chief Digital Health
Tune in to hear how organisations were able to do a wealth of digital work in a matter of months and how this has impacted the way technology could be implemented in the future. Our expert panel also look at the way Covid-19 has changed relationships with suppliers and the benefits that has brought the NHS.
Digital Health would also like to take this opportunity to say thank you to all NHS staff, frontline workers and technology teams who have worked exceptionally hard this year to keep us all safe and keep the NHS going.
Tune in on 15 December for a podcast with a twist – we're hosting a Digital Health Unplugged Christmas Quiz of the Year. Hear some of our Networks leaders get put to the test on their digital health knowledge for 2020 – and join in the Christmas cheer!
Digital Health Unplugged published fortnightly on Spotify, iTunes and Apple Podcasts. Follow us to stay up-to-date with the latest news.
You can also download the podcast from digitalhealth.podbean.com or through the Podbean app.
Got a podcast suggestion? Email podcast@digitalhealth.net.