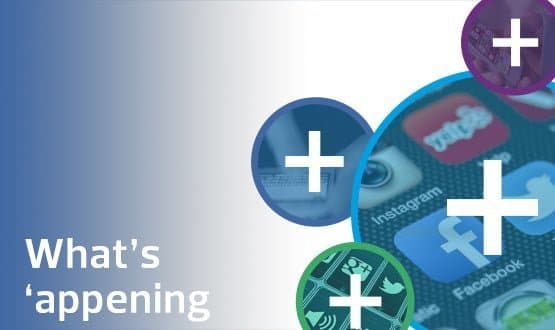 Our October mobile apps roundup features the news NHS Shared Business Services has partnered up with mobile app Earnd for a new payroll platform for NHS organisations and a survey which has revealed an increasing interest in health apps use.
NHS Shared Business Services (NHS SBS) has partnered up with the mobile app Earnd to create a payroll platform for the health service.
The agreement will see NHS users getting access to Earnd (a mobile app that improves financial wellbeing by giving employees free and flexible access to their salary) via the existing MySBSPay app.
The new collaboration will allow NHS organisations to offer more flexible and regular payments, which is one of the main attractions of working through an agency. NHS trusts can use Earnd to incentivise more doctors, nurses and other healthcare professionals to join their 'bank'.
Tasy Warn, Director of Employment Services at NHS SBS, said: "NHS SBS is committed to helping our NHS partners make better use of technology to enhance the quality of their non-clinical services – with user experience, digitisation and interoperability at the very heart of our new innovations.
"The new NHS People Plan rightly places significant emphasis on the wellbeing of NHS employees. Our new partnership with Earnd is about providing the NHS with easy access to digital technologies, which improve the lives of critical healthcare workers across the country, and save more time and money for patient care."
Support app expands topics to parenting and pregnancy
A peer-to-peer support app has launched a number of new channels which include issues relating to parenting and pregnancy.
Launched in 2019, HearMe now has more than 6,500 volunteer listeners in 150 countries who provide support to more than 40,000 members. The app has seen particularly high usage in the US, UK and India.
‍The new channels build on the app's existing ones which include Covid-19 and relationships.
Adam Lippin, founder and CEO of HearMe, said: "HearMe has helped thousands of people in their personal growth journeys, and we are excited to be helping even more with the release of our new channels."
Survey reveals increasing interest in health apps use
A survey has revealed that just over a quarter of people questioned said they would rather use health apps than visit a GP or hospital.
Conducted by Quin, the survey also revealed 78% feel that introducing apps into healthcare could alleviate many common challenges. However despite these numbers, only 11% have ever used a health app personally.
Cyndi Williams, CEO at Quin, says: "The industry needs to put more focus and money into making health-tech apps that people want and need to manage their daily lifestyles and health conditions. The shift in public opinion towards health-tech apps, in light of the pandemic, shows that there is a demand for data-driven smarter tech solutions.
"By providing the public with this technology, we can better manage our lifestyles independently, require fewer GP and hospital visits and improve our quality of life."